Free Download Google Chrome 32.0.1700.6 Portable New Update.
Kini Google Chrome versi Portable telah diperbarui ke versi terbarunya yaitu Google Chrome version 32.0.1700.6. Pada versi ini terdapat beberapa perbaikan crash dan bug lainnya.
Features:
Quick to start up
Loads web pages in a snap
Runs web applications faster than ever
Designed for efficiency and ease of use
Search and navigate to web pages from the same box
Arrange and organize tabs however you wish — quickly and easily
Get to your favorite websites with just a click, from the thumbnails of your most visited sites in the New Tab page
Themes to add delight to your browser
Google Chrome adalah browser yang dirancang dengan desain minimal namun memiliki teknologi yang sangat canggih untuk membuat web lebih cepat, lebih aman, dan lebih mudah.
Google Chrome memiliki Antarmuka yang bersih dan menyenangkan, tetapi tidak hanya itu, kita juga dapat dengan mudah untuk menerapkan tema, sehingga setiap orang dapat memilih sesuai dengan selera mereka sendiri. Antarmuka didesain sangat minimalis yang hanya dengan address bar yang menampilkan semua tombol yang mungkin diperlukan pengguna untuk navigasi.
Google telah menyediakan berjuta ekstensi yang dapat kita instal melalui Webstore komprehensif, kita dapat menemukan semua jenis aplikasi atau ekstensi, mulai dari pendidikan untuk permainan, gaya hidup dan blogging, dan masih banyak lagi ekstensi atau aplikasi yang disediakan.
Google Chrome sangat aman dan memudahka jika terjadi error sangat mudah diatasi. ketika kita mengunjungi lebih dari satu situs Web, lalu jika terdapat salah satu halaman web yang terjadi crash, kita hanya perlu menghentikan tab nya (pada halaman yang terjadi crash), tanpa harus menutup seluruh browser.
Dengan Lisensi Gratis (Freeware) dan sering melakukan update membuat browser ini semakin banyak penggunanya, dirancang dengan kesederhanaan desain yang enak dipandang mata. dan juga dengan beragam fitur aplikasi tambahan (add-ons) membuat browser ini sangatlah populer.
SCREENSHOT: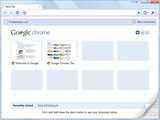 DOWNLOAD FILE:
Judul:
Google Chrome
32.0.1700.6
Portable
Nama file:
32.0.1700.6_chrome_installer.exe
OS:
Windows XP / Vista / Windows7 / XP64 / Vista64 / Windows7 64 / Windows8 / Windows8 64
Bahasa:
Multiple languages
Lisensi:
Freeware / Partially Open Source (Launcher: GPL, Chromium: BSD)
Author:
Open Source
Google (www.google.com)
Siahkan download Google Chrome
32.0.1700.6
Portable melalui link download dibawah ini: